Community Childcare Subvention Plus (CCSP)

The Community Childcare Subvention childcare programme is targeted to support parents on a low income to avail of reduced childcare costs at participating childcare services.
The CCSP is available in both community and private participating services.
From the new programme year (August 16th) CCSP will only be available to eligible CCSP Saver registrations.
An eligible child must be:
Under the age of 15 years and;
Registered on CCSP prior to the closure of CCSP to new registrations on 15th November 2019 and were registered for the 2020/2021 programme year/registered on TEC prior to its' closure to new registration on 14th February 2020;
In attendance at a TUSLA registered service within 4 weeks of the service opening for the 2021/2022 programme;
Registered by a Service Provider on the PIP online system under the CCSP Saver Programme Funding Agreement, and,
In attendance in a service in accordance with the session type and pattern of attendance that the child has been registered as on PIP.
The service provider applies for CCSP on behalf of the parent. CCSP subvention is available for 52 weeks of the year.  They may also incorporate a breakfast club. Some CCSP services may be standalone services and cater for just one type of service e.g. afterschool. A child must be under 15 years of age to be eligible for the CCSP programme. A child will not be eligible if they are enrolled on any other DCYA childcare programme.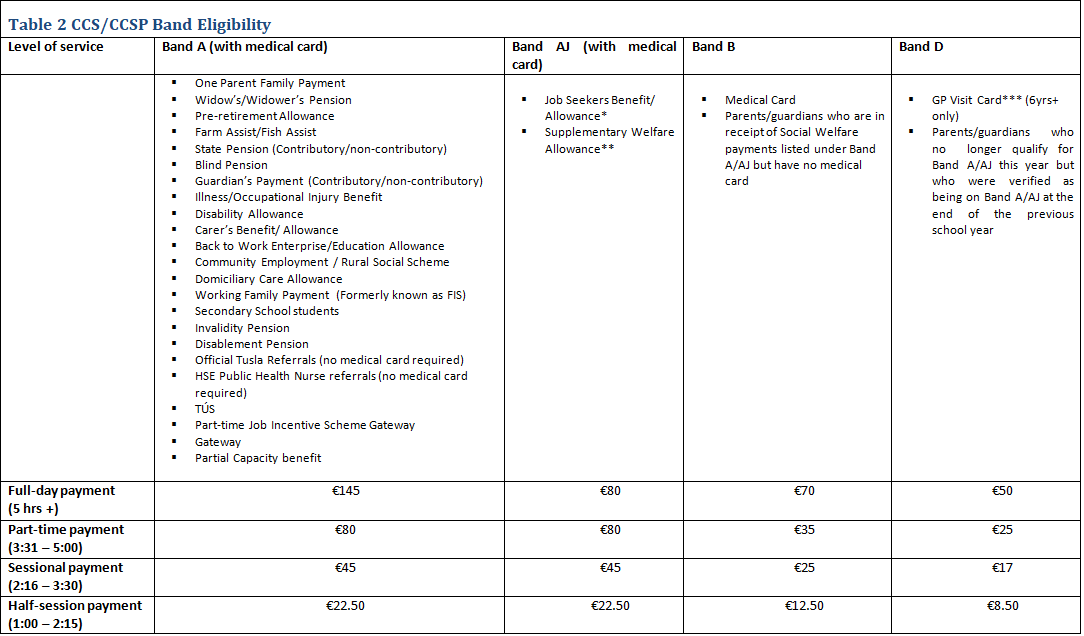 Download Community Childcare Subvention – Band of Supports and rates of subvention parents using your service.
Registering a child on the CCSP Programme
Parents must complete a pre-registration form providing the following information:
Parent & child's PPSN
Parent & child's DOB
Proof of SW payment
Proof of Medical Card
CCSP: Proof of payment required – on week of registration plus 4 weeks prior to registration week
The Childcare Service must provide the parent with a Fee Policy and a Calendar.
Fees lists and service calendars are processed online, resulting in an easier and more streamlined experience for service providers. This process will assist service providers by automatically completing the Service Fee Information letter and, in addition, a letter for parents outlining the days the service is closed for that programme. This guide will detail how to complete:
CCSP Fees List
CCSP Calendar
Printing the Service Fees Information Letter
The guide will also outline what will happen after the service provider submits the Fees list and service calendar.
Community Childcare Subvention Universal (CCSU)
If your child is aged between 6 months and 36 months* and is enrolled in Tusla-registered childcare, you are eligible for a non means-tested universal childcare subsidy of up to €20 per week. That amounts to up to €1,040 per year.
*Your child may continue to receive the universal subsidy until they commence their ECCE (free preschool year). In some cases, this will be slightly older than 36 months
Please see: CCSP Programme Rules 2020-2021
The programme rules for CCSP Saver Programme 2021/2022 can be found here.
CCSP Saver Programme is administered on the PIP portal and all Programme Readiness tasks must be completed on PIP. Please see the below guides available in available in PIP Resources for guidance:
The CCSP Saver Programme funding agreement can be accepted before the 2021/22 service calendar and fees list are created on PIP. However, these tasks must be completed prior to registrations starting.
The deadline for completing your fees list and service calendar for CCSP Saver Programme is 30th July if you intend on opening on the first day of the programme year (i.e. 16th August). Otherwise, these must be completed on PIP a minimum of 2 weeks prior to the service opening.