What is a childminder?
A Childminder cares for a small group of children of mixed ages in the childminder's own home. Children are welcomed as individuals, they are offered affection and respect and their developmental and recreational needs are met. Childminders offer a flexible service, tailored to each child, thereby helping parents and guardians to balance their work and family commitments. A Childminder negotiates and agrees her/his terms with parents. The child's welfare must be the prime consideration of the Childminder. Childminders have sole responsibility for the health, safety and wellbeing of each child entrusted to their care.
Are you thinking of becoming a childminder? If so please see resources below
A Guide to becoming a Childminder
Information for Childminders on the National Action Plan for Childminding
Guidelines on Planning a Childminding Business in your own home
Childminding Sample Policies and Procedures
Childminding Sample Record Keeping Forms
Information for Parents on the National Childminding Action Plan
Guidance for Childminders: https://www.laoischildcare.ie/2022/02/16/guidance-for-childminders-understanding-childrens-behaviour/
Training for Childminders
Please find links below to contacts and resources for training.
Grants and funding available
The 2021 Childminding Development Grant (CMDG) is now closed and will reopen again in 2022.
Please contact Laois CCC 057 86 61029 to find out more about the Childminding Development Grant (CMDG) and Learner Fund bursary annual grant
---
Latest news, information and upcoming events for Childminders
National Action Plan for Childminding 2021-2028

The Minister for Children, Equality, Disability, Integration and Youth, Roderic O'Gorman, T.D., launched the National Action Plan for Childminding on 15th April 2021. The National Action Plan aims to improve access to high quality and affordable early learning and care and school-age childcare through childminding, and sets out a phased approach to bringing childminders within the scope of State-funded supports and regulation over the period 2021-2028.
The National Action Plan for Childminding is a pathway to be developed over the next 8 years that sets out steps towards regulation, support and subsidies, for all paid, non-relative childminders. The Action Plan will involve change and significant benefits for childminders, children and the families using their services.
---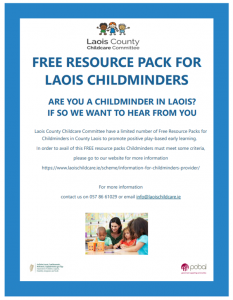 Laois County Childcare – Free Resource Pack for Childminders
Laois County Childcare Committee have a limited number of Free Resource Packs for Childminders in County Laois to promote positive play-based early learning.
In order to avail of this FREE resource pack, Childminders must meet the criteria stated below:
Be currently providing a childminding service in Laois
Have valid (in date) childminding insurance
Have completed the Tusla Children First Training: https://www.tusla.ie/children-first/children-first-e-learning-programme/
Have completed some CPD from First Five https://first5.gov.ie/practitioners/continuing-professional-development

OR

Complete the Quality and Regulatory Framework eLearning Programme: https://www.tusla.ie/services/preschool-services/early-years-quality-and-regulatory-framework/quality-and-regulatory-framework-elearning-programme/
---
To download January's Childminder Newsletter click here January Newsletter 2022
To download February's Childminder Newsletter click here February Newsletter 2022
---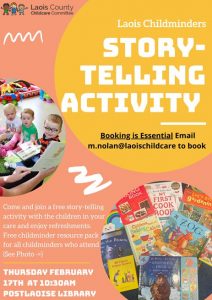 For more information on our Story Telling Event please contact Michelle at 057 8661029 or email m.nolan@laoischildcare.ie
---

Building connections between the child and the childminder – Online Event – 5th April 2022 @ 7pm
Click on link for more information https://www.laoischildcare.ie/event/building-connections-between-the-child-and-the-childminder/