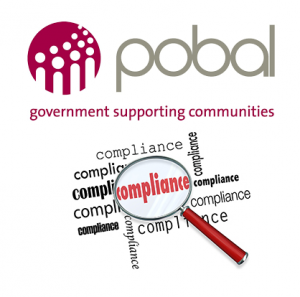 On the direction of the Department of Children, Equality, Disability, Integration and Youth (DCEDIY) formerly DCYA, the Pobal Compliance team are commencing compliance activity on programme funding currently administered to Early Learning and Care (ELC) and School Age Childcare (SAC) services.
Compliance checks will be undertaken in respect of some or all of the Childcare Programmes 
Please find below some resources which you will find helpful when preparing for your compliance checks:
NCS Compliance Checklist 2022 2023 FINAL
Compliance approach during COVID-19 pandemic
All Pobal compliance visits in the 2021/2022 programme cycle will be undertaken in adherence with public health guidelines during the COVID-19 pandemic. In addition, all checks undertaken will take account of any flexibility of the programme rules notified to providers through announcements on the Hive. This document has been prepared on the assumption of on-site visits. Previously, as an interim measure, compliance checks were conducted remotely with Compliance staff contacting Service Providers for submission of documentation online. Should this become a requirement going forward Service Providers will be supported in this with guidance on how to collate and submit the requested documentation to Pobal. DCEDIY and Pobal continue to monitor the COVID-19 situation and any changes that might be required regarding onsite inspections will be communicated via the Hive/PIP portals.
The Compliance Guides for Service Providers relating to standard onsite compliance visits have been revised for this cycle and are being finalised for publication. A further announcement on these documents will follow shortly at which time the documents will be uploaded to PIP and the Hive systems for information purposes.
Saver Management Windows (SMWs)
The compliance checks on CCSP/CCSU/CCSR and TEC Saver registrations take account of Saver Management Windows (SMW) timelines as outlined in the relevant rules and announcements on PIP. ELC and SAC service providers are reminded that any CCSP/CCSU/CCSR and TEC Saver registrations that require updating to meet compliance with the relevant programme rules should be updated on PIP during the applicable Saver Management Window.
National Childcare Scheme (NCS)
A further update will be issued in advance of checks commencing on NCS. It is important that all required documentation is maintained from the commencement of registrations under this scheme.