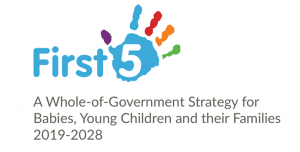 Professional development for practitioners
A key objective of First 5 is to improve Continuing Professional Development (CPD) for all those who work in early learning and care and school-age childcare settings.
During the Covid -19 emergency period many practitioners will have an opportunity to undertake online training or development activities to help them meet the demands of their professional roles.
Health and well-being
Below are a number of resources designed to support your connection to your job and to meet the obligations of the continued funding of staff by the DCEDIY but we understand that consideration must be given, during this time, to your own health and well-being. It is understood that many people have caring responsibilities that need attending at this time so we would urge you to review the HSE's advice on minding your mental health and supporting well-being which can be found here
Choosing a course
You can choose any number of free online courses and resources on the First 5 Website https://first5.gov.ie/practitioners/continuing-professional-development that may suit your particular professional development needs. First 5 will also add new content in the coming days and weeks so please come back regularly to find new resources.
Practitioners
We encourage you to keep a record of the online resources you use and your learning from them. Keeping a record will help you keep track of your professional development, and may be a tool your manager can use to support you. To help this process we have provided a template form which you can download here.
Service Managers
Engaging with Continuing Professional Development is an opportunity for you and your staff team to add to everyone's knowledge and skills while not working directly with children during the Covid crisis. It also demonstrates your ongoing commitment to training and professional development within your setting. To help plan and record your team's CPD activities, please download and use our Service Manager's Continuing Professional Development Service Record. You should keep the completed record on file as you may need it for compliance checks. You can download the document here.
Newly added courses
Outdoor shelters and transforming spaces .
Supporting Children facing adversity during Covid 19
For more information and the latest courses available please visit https://first5.gov.ie/practitioners/continuing-professional-development
Digital pack For Pre-school and Childcare Practitioner
To help practitioners limit the spread of COVID-19 the department has prepared a digital pack with various resources and information on the prevention of COVID-19. You can download the digital pack for use in your pre-school or childcare setting through the links below.
Digital pack contents:
Guidance for you and your sector
Update – Informing parents in relation to a positive covid-19 case within an Early Learning and Childcare setting:
Following the announcement on the 14th December 2021 of the introduction of an antigen programme in Early Learning and Childcare, settings were notified that they should inform parents of a positive case in children 4 years and older to enable them to access the antigen programme. As many ELC settings have mixed age play-pod/rooms it is appropriate to operate one policy across the setting in relation to informing parents of an identified positive case, regardless of eligibility for the antigen programme.
It is important to note that informing parents should be underpinned by the principle of respecting the right to privacy of individual children and families. In addition, information provided as part of the antigen programme provide next step advice to parents. Therefore, when contacting any parent to inform them of a positive case the setting should remind them to follow advice available on the HSE and HPSC websites.
Preparation Documents
Some quick reference material on a variety of thematic areas:
Practice Supports [Updated March 22nd 2021]
This section provides tailored information for Practice Supports.
Pre-school at Home Hub
The Department has established a Pre-School at Home Hub to support parents and practitioners during current restrictions. The Preschool at Home Hub has lots of new and existing resources in one convenient place. Early Learning and Care settings have been asked to connect with families to support the children in their setting during current restrictions. Some guidance to support you in relation to connecting with parents is provided below.
To visit the Pre-school at Home hub click on the link here:  Pre-School at Home Hub
Quick Guide for Schools and Childcare Facilities – Managing cases and close contacts
FAQs will continue to be updated at appropriate intervals – https://first5.gov.ie/practitioners/continuing-professional-development