---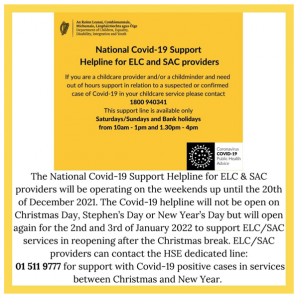 There are two helplines available to services who have a suspected or confirmed case of Covid-19 in their service.
The HSE have a helpline to advise service providers if they have been informed of a Covid19 case in a child or a staff member. The number is 01 511 9777 It is open Monday –Friday 8.30 –4.30 and 10 –4.30 Saturdays, Sundays, and Bank Holidays.
If you are a childcare provider and/or a childminder and need our of hours support in relation to a suspected or confirmed case of Covid-19 in your childcare service please contact the out of hours number on 1800 940341  – This support line is available only Saturdays/Sundays and Bank Holidays from 10am – 1pm and 1.30pm – 4pm
The National Covid 19 support Helpline for ELC & SAC providers will be operating on the weekends up until the 20th of December 2021.  The Covid-19 helpline will not be open on Christmas Day , Stephens Day or New Years day but will open again for the 2nd and 3rd of January 2022 to support ELC/SAC services in reopening after the Christmas Break.  ELC/SAC providers can contact the HSE dedicated line: 01 5119777 for support with Covid-19 positive cases in services between Christmas and New Year.